There are many reasons why you might need to change the contact information associated with a domain name. For example, you may be a web developer that registered the domain for a client who now wants to take over the website management themselves.
If you no longer have anything to do with the project, it makes sense to ensure your contact details aren't associated with it, either.
On the other hand, if you take care of the domain, you must keep the data up-to-date. Registrars use this information to ensure site owners are always aware of important events regarding their domains.
If you miss the registrar's notifications, you may inadvertently allow other people to make unauthorized changes to your account and may even lose control over your domain. Here's what you need to do to change the contact details on domains registered with ScalaHosting.
If you register your domain during the signup process, our system will use the contact information you use for your hosting account and associate it with the domain. You can later change it from your Client Area.
You can see a list of all the domains currently registered under your customer account in the Domains section. There's a checkbox next to each of them allowing you to select it, and below the list, there's a bulk actions drop-down menu.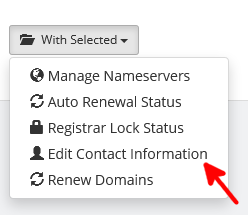 The Edit Contact Information options lets you view and modify the registrant data.
Because most of the notifications arrive via email, the administrative email address is the most crucial bit of information you must update. It's a good idea to use an address at a public email provider like Gmail or Yahoo as the administrative email.
That way, if the domain stops working for some reason, you will still be able to receive notifications about it. Feel free to get in touch with our technical support team if you need any further assistance.