With a subdomain, you can create multiple websites without paying for a domain or hosting plan. It allows you to run websites simultaneously on your existing domain. You can create and manage multiple websites on a single domain.
This article guides you everything you need to know about a subdomain name, how to create one and how to set up a subdomain website.
What's a Subdomain Name?
A subdomain is a domain within a domain. It helps organize a website into sections, for example, blog.domain.com, m.domain.com (for mobile website version), store.domain.com, or help.domain.com to host your support center.
Owners of multi-languages websites often rely on it to organize their websites into language sections to cater to different languages. For instance, you could use en.yourdomain.com to host your websites' English version, es.yourdomain.com to run the Spanish version, and fr.yourdomain.com for the French version.
These subdomains allow you to run the three websites without any additional payments. You could even run them from a single WordPress installation and dashboard using the WordPress multisite feature. The feature allows users to create a website network and manage them centrally.
Subdomain name allows web visitors to access a subdomain using an easy-to-remember name. It's what visitors type in their browsers when visiting a subdomain.
How to create a Subdomain Name
You can create a subdomain name by adding a prefix to a domain name you already own. To get started, sign in to your SPanel's User Interface. The default login URL is https://yourdomain.com/spanel (don't forget to replace yourdomain.com with your actual domain).

Scroll down to the DOMAINS section and click Subdomains.

Enter your subdomain name in the Subdomain text box and select the domain you wish to add the subdomain to from the drop-down menu.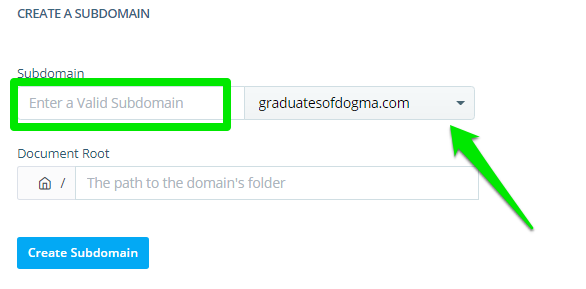 Click the Create Subdomain button, and Scalahosting takes care of the rest.
Installing WordPress on a Subdomain
After setting up your subdomain, the next is to create the website content. Unlike a domain that requires hosting after purchasing a domain name, a subdomain goes live the moment you create the subdomain name—all you need to have a functional website is to design the interface and add the content.
Using WordPress allows you to set up a website quickly without any coding skills. It lets you customize your website and extend its functionalities using over 7,000 themes and 56,000 plugins. You could install the script to your subdomain in two ways—via WordPress Manager or Softaculous.
Via WordPress Manager
WordPress Manager is SPanel's intuitive interface for installing WordPress with quick steps. To get started, log in to your account's control panel, scroll to the Tools section, then click WordPress manager.

Click Domain/Path to open a drop-down menu and select the subdomain you wish to install from the list of your active domains and subdomains. Please, leave the Folder name field blank. It's only applicable if you're setting up WordPress on a subdirectory (for example, domain.com/help or subdomain.domain.com/help).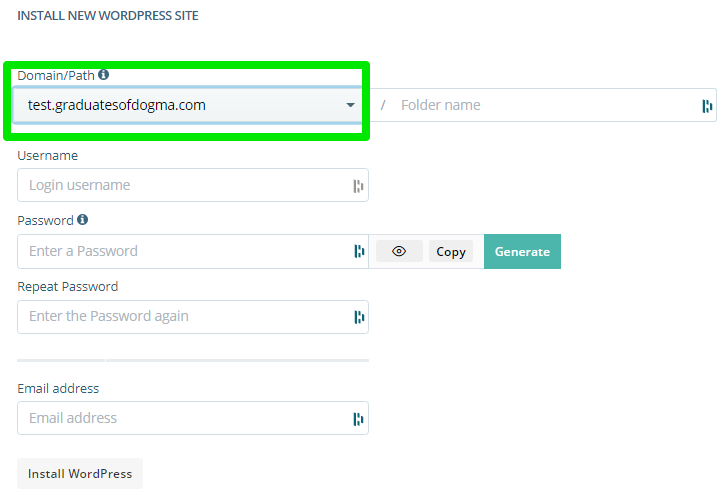 Enter your login username and password in the appropriate text boxes.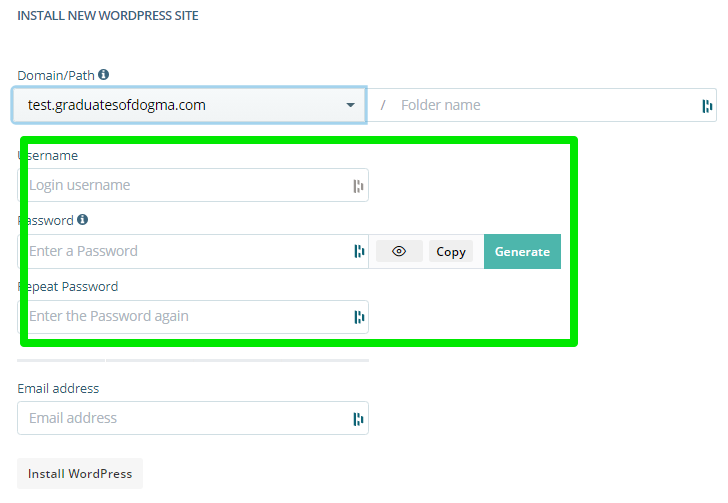 The login credential helps you log into your WordPress admin backend—so ensure it's secured. You could use the Generate button to create a strong password. Type your admin email address and click the Install WordPress button.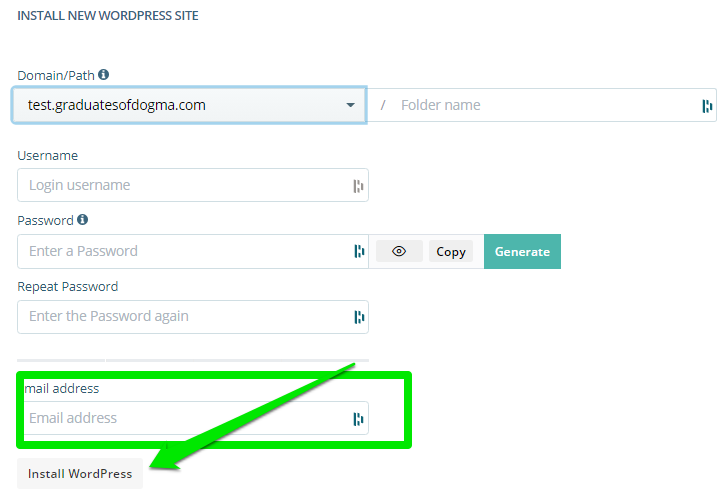 Via Softaculous
Softaculous is a commercial script library that allows users to install open-source web applications to a website. It allows you to install other scripts besides WordPress, like Joomla (another powerful CMS), AbanteCart (an eCommerce script), phpBB (a widely used forum solution), ClipBucket (for creating a YouTube-like website), and others.
To install WordPress on your subdomain using Softaculous, log in to your control panel and click Softaculous under the Tools section.

On Softaculous, under Top Scripts, select WordPress > Install.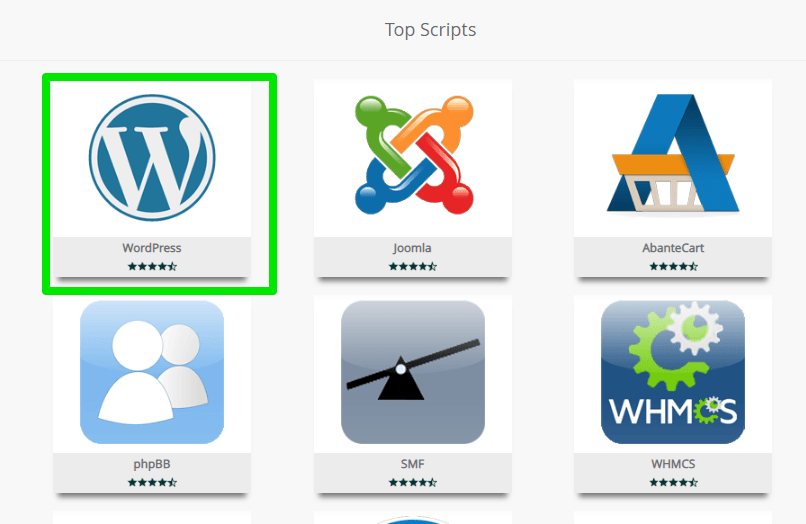 On the WordPress installation page, select the latest version of WordPress, choose your protocol, then your domain, and don't forget to leave the In Directory field empty.

Under Site Settings, enter your website name and a description.
Click the checkbox if you wish to enable the Multisite feature.
Under Admin Account, enter your admin username, password, and email.

Select your language, enter the email address that'll receive your installation details, then click the Install button to run and complete the installation.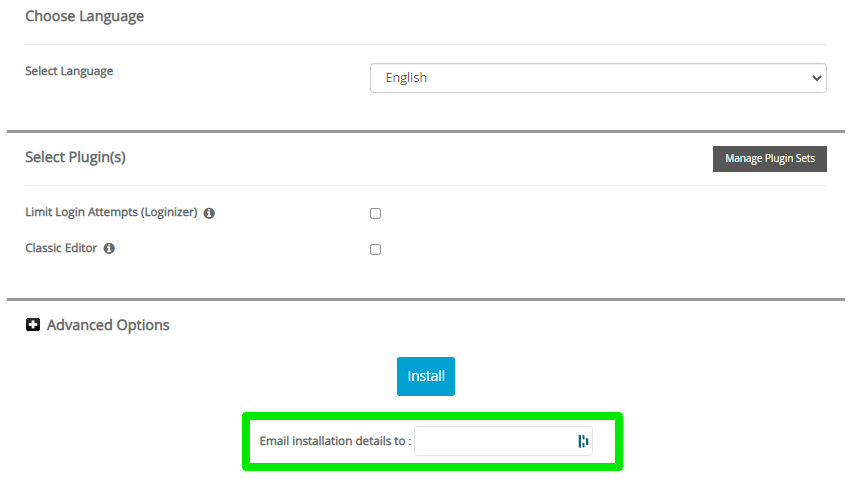 Wrapping It Up
Using subdomains is entirely free. It allows you to create a new website on an existing domain, saving you the cost of buying a new domain name and hosting plan. It also helps you organize your website into logical sections.
If you need support with anything relating to a subdomain, then reach our support by chat, email, or phone, and we'll be glad to help.