As a website owner or administrator, seeing an "error establishing a Database Connection" on your website can send you into panic mode, especially if you've never encountered this before. If you are in this situation right now, you have nothing to worry about because you can fix this error without any permanent damage to your website.
This article will show you the different ways to fix this error whenever it occurs, but first, it is essential to understand what the problem is and why it happens.
What Is A Database Connection
Two technologies –PHP and MySQL, control WordPress functions.
PHP is the WordPress programming language, while MySQL is the database technology. WordPress is a content management system that uses a database to store and manage data. Every time there is a successful connection and your website loads entirely, there was an excellent database connection via the PHP commands.
What Causes A Database Connection Error
For your website to establish a successful database connection, it will require the following credentials :
Database username

Database password

Database name

Database server
So whenever a database connection error occurs, WordPress cannot access the WordPress database information cannot be accessed.
This can be due to some reasons:
Incorrect login credentials:

To access the database, WordPress requires the correct login username and password. When these

login credentials

are wrong, WordPress would not be able to access the database.

Corrupted database and files

: WordPress files and databases can get corrupted due to a malicious attack or failure to update themes and plugins. When the database or its files are corrupted, it can be

challenging to establish a database connection.
Database server downtime:

Whenever the WordPress database experiences a downtime, it would not be possible to connect with it at that time.
How to Fix the Error Establishing A Database Connection
The first step to take before fixing a database connection error is to backup your website.
This can be done by using a simple WordPress backup plugin.
The error in establishing a database connection can be fixed in a few ways:
Check your database login credentials

Repair your corrupted database

Fix corrupt files

Check if your database server is down

Troubleshoot with your hosting provider
Let's break these solutions down into actionable bits.
1. Check Your Database Credentials
To access the database, WordPress uses a specific username and password.
These connection details are stored in the wp-config.php file of your file's manager. This file cannot change on its own, so you'd typically experience this whenever you change your hosting provider or made any changes to your site's file.
To fix this error, locate the wp-config.php file (this is usually found in the root directory) using either an FTP client or by going to your file's manager.
Check for the following line of codes :
define('DB_NAME', 'some_db')

define('DB_USER', 'some_username')

define('DB_PASSWORD', 'some_pass')

define('DB_HOST', 'localhost')
Make sure that the information provided for the different parameters is correct. You can confirm the details by going to the MySQL section of your SPanel dashboard.
If the details don't match, you can reset them by editing the wp-config.php file.
Now, try reloading your site to see if it works.
If it doesn't work, keep reading this article for more troubleshooting steps.
2. Repair Corrupted Databases
If you are getting an error that says, "One or more database tables are unavailable'', then this means that you have to fix the error by yourself. Repairing a corrupted database is similar to the previous step we shared above.
This time, all you have to do is add the following line of code to the bottom of your wp-config.php file:
define('WP_ALLOW_REPAIR', true);
Then go to your browser and visit this link https://yourdomain.com/wp-admin/maint/repair.php. You will be presented with an option to either repair the database or optimize the database. 
Choose Repair database.
After running this command, ensure that you remove the line of code that you initially added to the wp-config.php file.
If you don't do this, it simply means anyone can run a repair on your database.
3. Fix Corrupt Files
Your files can get corrupted as a result of a malicious attack by a hacker or during a file transfer process. This corrupted file is another reason why you get an error establishing a database connection.
To fix this error, we are not going to touch your existing files. We are simply going to make a fresh WordPress installation. But first of all, it is vital to backup your existing website. After the backup, visit wordpress.org to download a new version.
After downloading this file, unzip it on your computer and locate the wp-content folder as well as the wp-config-sample.php file. After deleting these files, upload the remaining files via SFTP to your site. This will replace all corrupted files and install the new ones.
Ensure you clear your cache files and reload your website to see if it works.
4. Check if your database server is down
A database server can experience downtime when there is an increase in website traffic.
If this is the case, go to your SPanel dashboard to access phpMyAdmin and connect the database.
If you can connect, then we need to make sure that you have enough database user permission.
To check this, create a new file and paste the following code into it: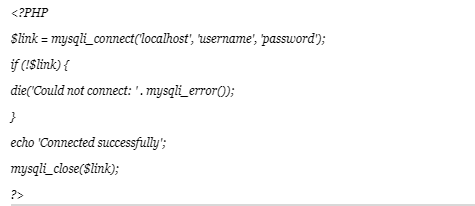 Replace the username and password with the correct credentials and upload the file to your website using FTP and access your website via your browser.
If your user has sufficient permission, the script will connect successfully.
If this is the case, it simply means that something else is wrong.
Conclusion
If you still encounter an error after trying any of these steps, your final resort is to reach out to your hosting provider to ask for help. At Scalahosting, we offer around-the-clock support services to help you out with your hosting needs.
Feel free to reach out to our support team or leave us a feedback. If any of the above-listed steps worked for you, we would also love to hear your feedback.