A primary domain is the first domain you've added to your SPanel account.
With an SPanel managed VPS, you can create as many different accounts with as many domain names as you want. If you want to start a new project, you can always set up a new account and get started in no time.
However, if you want to use the same files with a different domain, it makes sense to repurpose an existing account instead of creating a new one. This means changing the account's main domain.
Here's how to do it.
Changing the Main Domain of an SPanel Account
Swapping one main domain for another takes no more than a couple of minutes and is really easy. You need to bear in mind, however, that if the new domain is to work, it needs to be registered and pointed to your VPS. After that's done, follow the steps below to change your SPanel account's main domain.

STEP 1: Log into SPanel's Admin Interface.

You will be managing one of your SPanel accounts, so the Admin Interface is where you need to go. The default login URL is [your server's IP address]/spanel.
STEP 2: Locate the account you want to modify.
On the homepage, you'll see a list of all the SPanel accounts created on your VPS. The same list is also available on the Manage Accounts page available in the navigation panel on the left.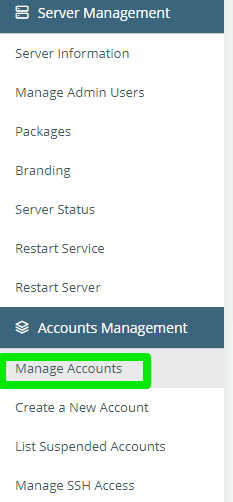 Make sure you find the account you want to modify. To save time, you can also use the search functionality and look them up by a domain or a username.
STEP 3: Open the Actions Drop-Down and Select Change Domain.
Next to each account, there's an Actions drop-down menu. Open it and select Change Domain.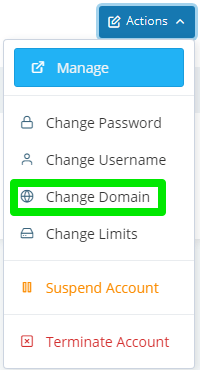 A popup appears asking you for the new domain. All you need to do is to enter it and click the Change button to apply the changes.
By default, SPanel will assign the public_html directory as the document root for your new main domain.
Bear in mind that the change will wreak havoc with your existing subdomains, custom DNS settings, and email forwarders; so always proceed with caution.
Need Support?
If you need assistance changing your primary domain or have questions, reach out to our support, and we'll be willing and available to help.