How to Secure Your Website – Easy Steps for Webmasters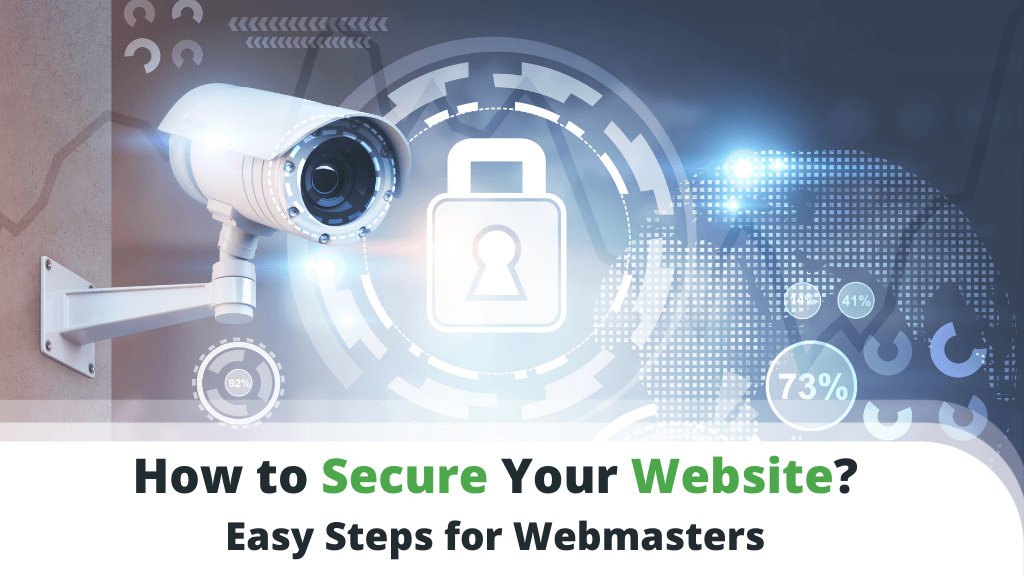 The number of compromised websites is growing every day. Hackers are getting more and more inventive in finding new ways to breach our online properties, and we can only do our best to prevent that.
Securing a website is a joint effort of both server provider and webmaster, so your first task would be to find the right host. Our focus today is on the next step – once a client, how to secure your website so no hacker can get in?
Table of Contents:
---
Why is Website Security Important?
There's a simple answer to that question. The internet is booming, and anyone can easily create a website today. This ocean of opportunities naturally harvests sharks that want to take advantage of the situation.
There are many ways a hacker can harm you.
Brute force and DDoS attacks, spam blasts, SQL injections, personal data breaches – danger seems to lurk around every corner. Picking a hosting provider is the right first step to ensure your online safety. The host can equip you with highly-secure servers, packing firewalls and software add-ons to make your website look like a fortress.
But you have to play your own part as well. Here is how:
Steps to Secure a Website
Although there are tons of little things you can do to protect your site, you have to keep in mind the essentials that any webmaster can benefit from. These are crucial for practically any type of website, so make a note to check all of them.
1. Use strong passwords
The first and most important rule in website security – strong passwords are your friend. Sure, it might seem a good idea to use something easy to remember like 123456 or the name of your pet, but in reality, you are just opening your doors wide open for anyone to get in.
Even if the system doesn't require it, always make sure to use strings of letters, numbers, and special symbols, uppercase and lowercase combinations. The longer and more complicated sequence – the better.
To make sure you remember everything, you can utilize a password manager tool, which allows you to safely generate and store complex passkeys across multiple websites.
2. Keep everything updated
Old applications and app versions are one of the most exploited doorways for hacking websites. As technology evolves, security risks also take new forms, so software developers make sure to release regular updates and patches to their products. Failing to update your sites in a timely manner is a big security risk you definitely want to cover.
If you are utilizing a CMS, you will most often get timely updates when a new version comes out, with the option to easily switch it. Still, you have to consider all associated themes and plugins you may have integrated. They need to be updated as well, and it's best to test that in a staging environment as plugin versions might not always be compatible with the core updates.
3. Set the right permissions
Improper file and folder permissions can make a mess out of all your other security efforts. Authorization is indicated with a three-digit number, each one indicating a different permission – Read, Write, and Execution rights. For example, 777 permissions mean that anyone is free to access and make changes to the files and folders.
In WordPress, permissions can be altered from the wp.config file. By default, they are set at 600, which means that you'll be the only one with enough rights to make website modifications.
4. Enable HTTPS encryption
Ensuring a secure connection between client and server has always been a recommended guideline for webmasters. Even though not mandatory, many site owners opted for various types of SSL certificates, which encrypt all web requests and protect user data.
But now you have the added benefit of SEO as well. Google has been hinting for a long time that HTTPS encryption holds some weight in website ranking, but they have now confirmed this is at the core of their algorithm.
Even if your website is not commercial, you can still find free SSL certificates and get better security at no added cost.
5. Perform daily backups
Unexpected errors happen, even if they're not caused by an outside breach. That's why site backups should be an integral part of your security protocols.
Imagine if you get an urgent alert your website is down, and there is an error message of a critical vulnerability. Or find out that a new update you applied has turned things horribly wrong. You can easily access a restore point and get a working copy back and running in no time.
Your hosting provider can greatly help in that aspect, offering automated backup solutions. Still, just to be on the safe side, it always pays to create manual daily backups of your website and keep them in a safe, offsite location.
6. Lock file and directory editing
There are more than one ways of locking your files and directories away from prying eyes. Especially if you would be the only one doing work on the website, it pays to block any outside access to your account.
ScalaHosting is one of the providers that go one step further and equips all WordPress users with SWordPress Manager. This is an in-house developed product that, among other optimizations, allows you to turn on a Security Lock. This feature restricts all outside access to your files and directories until further notice.
7. Be careful with your emails
You may already be well aware that spam is one of the pressing issues in cybersecurity today. But our email communication also hides more than a few risks for our online safety.
For example, phishing is still on the rise, with hackers gaining personal details and redirecting traffic through fake links inside emails. Furthermore, as we rarely clean our inboxes, they often contain tons of emails containing passwords for different products and services. If a hacker gains access to your email – they practically have a master key for everything.
Always be careful when opening and clicking on emails. Double-check if you are familiar with the sender's email and keep a close eye if the mail contains some offer or promotion that just seems too good to be true.
Conclusion
This checklist should give you a great head start when it comes to protecting your website against hackers. Sure, there are many more precautions that can come in handy – malware scans, parameterized queries, hashing passwords, hiding your admin folders. At the end of the day, it all boils down to the nature of your project and how much time and finances you are willing to invest in your website security.
FAQ
Q: How to find out if my website is secure enough?
A: In terms of HTTPS encryption, there is a very easy way to check if a website utilizes any form of SSL certificate. On the left of the address bar in most browsers, you will find a padlock where you can get detailed website information. It will display information about the certificate and its validation.
Q: How much does website security cost?
A: The price for a really secure website can greatly vary. Smaller web projects that are built on a CMS can find suitable add-ons for the task, and it's not a rarity to get them for free or at a minimal cost.
Custom-built and enterprise projects rely on a much more complex infrastructure, and their needs can often exceed the standard market offerings. Companies often hire outside cybersecurity agencies that can charge hundreds, even thousands per month.
Q: Can you get hacked just by visiting a website?
A: It is entirely possible to get your personal computer or smartphone infected just by visiting an infected site. Luckily, popular browsers have learned to identify highly insecure pages and duly blast you with a warning before entering such websites. You will get details of the detected issue and still get the chance to continue at your own risk.
Was this article helpful?